2 1/16" Choke and Kill Manifold API 16C Wellhead
API 16C 2 1/16" Choke and Kill Manifold
Brief of choke and kill manifold
The chock manifold and the kill manifold are important well control equipment for down-hole operation to carry out near balance drilling. During drilling, the choke manifold and kill manifold are able to keep reservoirs form pollution and control well blowout efficiently. The design and the manufacture of the choke and kill manifolds conform to API 6A and 16C standards. The valves of the choke and kill manifold can provide small starting torque, reliable well sealing and excellent mechanical properties. The major parts are specially heat treated, with good abrasion and corrosion resistance capabilities. Various types of manifolds are available at customers' option.
Specification of the Choke manifold and Kill manifold
Name

Choke manifold

Kill manifold

Model

JG35

YJG35

YJG70

YJG70A

JG35

JG70

JG70A

Main & side bore diameters

103×65 mm (4×2-5/8 in)

Working pressure

35 MPa
5, 000 psi

70 MPa
10, 000 psi

35 MPa
5, 000 psi

70 MPa
10, 000 psi

Working temperature

-29 to 121 ℃

Working media

Mud, crude oil (containing H2S)

Control media

Double wing manual valve

Double wing
hydraulic valve

Triple wing
hydraulic valve

Single wing with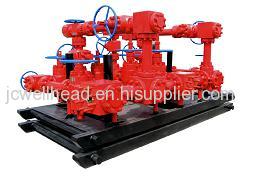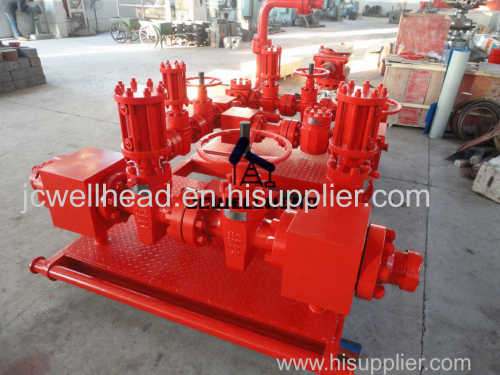 JCWellhead is able to design and provide various manifolds for oil and gas exploration, drilling drilling and workover operations on the land and offshore.
The main manifold includes below types:
*Drilling fluid manifold: Pump manifold pump, surface manifold, standpipe manifold, cementing manifold
*well control manifold: Choke manifold, Kill manifold
*Cementing and fracturing Manifold: pump truck Discharge manifold, high&low pressure combination manifold, Surface pipeline
*Surface test manifold: Surface test equipment safety control system, surface separate metering system, data acquisition system
2 1/16" Choke and Kill Manifold API 16C Wellhead
API 16C 2 1/16" Choke and Kill Manifold