Casing Head provides the first attachment to the surface casing string at the lower bowl.
During drilling operation, casing head is vital equipment used to control wellhead pressure.
Allows for testing of the blowout preventer whiledrilling. When drilling to deepen the well further for the first "Intermediate Casing", the casing head top connection–flange–is used to support the blowoutprevention (BOP)stack.
Houses slips and packing assemblies.Allows suspension or supports intermediate casing at the top bowl.
Casing head has side outlets for annular access.
Bears the weight of all the wellhead and Christmas tree equipment above it and the lowering casing.
Provides outlet for fluids that come along the annulus. In some cases, the flowing well could even be produced through both the casing and the tubing.
The attached gate valves could be used to determine leaks in casing, tubing or the packer.With its "Test Ports", also provides a means to test the BOP during drilling
Casing size

Top Flange

Size

Working pressure

7"

11"

3000psi

8 5/8"

11"

2000/3000/5000psi

9 5/8"

11"

2000/3000/5000psi

13 5/8"

2000/3000/5000/10000psi

10 3/4"

11"

2000/3000/5000/10000psi

11 3/4"

13 5/8"

2000/3000/5000psi

16 3/4"

3000/5000psi

12 3/4"

13 5/8"

5000psi

13 5/8"

13 5/8"

2000psi

13 5/8"

13 5/8"

3000/5000psi

16 3/4"

3000/5000psi

16"

16 3/4"

2000/3000/5000psi

20"

21 1/4"

2000psi

20 3/4"

3000psi

21 3/4"

5000psi
Bottom Preparation:
Slip-On Welding Type


Bolted Type

Threaded Type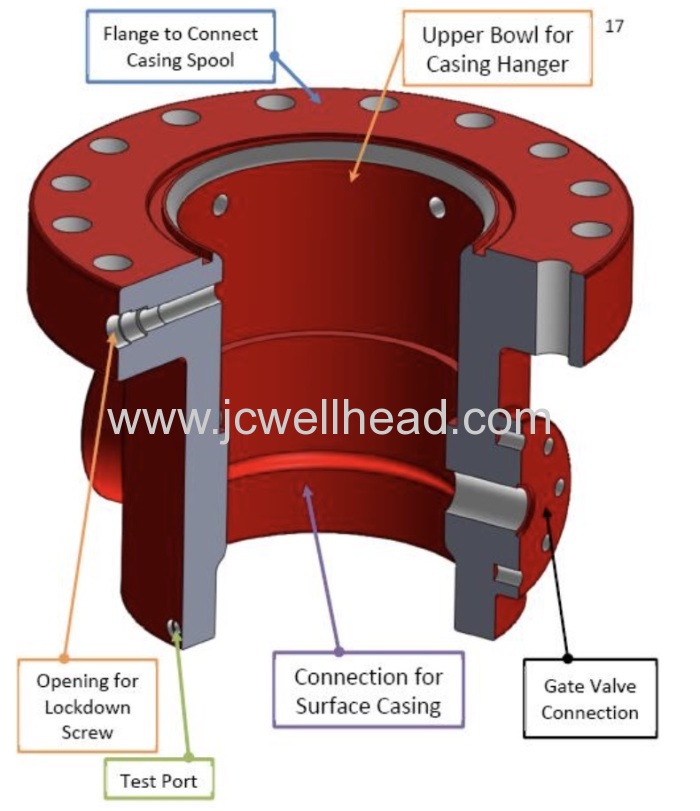 C-22 Casing Head
11"-3000psi Flanged Top with 8 5/8" SOW bottom, C/W O ring groove, Two outlets 2" LP