API 6A Wellhead Christmas Tree Casing Head 9-5/8"x7" - 3000psi
OIl Well Casing Head 9 5/8" x 7" for Wellhead Christmas Tree
Overview of the wellhead casing head 9-5/8"x7" - 3000psi
The 9-5/8"x7" - 3000psi wellhead casing head is with the design of versatile straight-bore. And the casing head and casing spool can be equipped with mandrel hanger and slip hanger, to handle any emergency effectively while the flange housing remains unchanged. The improvement of the casing head structure simplifies the operation procedures and saves operating time.
Features of wellhead casing head 9-5/8"x7" - 3000psi
* The casing head is designed with Straight-bore.
* The casing head has large load capacity
* The casing head has side outlet connection, pipeline thread side outlet and threaded flange side outlet VR thread
* The casing head secondary seal mechanism is designed on the bottom.
* The casing can be cut on site during tubing installation so as to accommodate the seal height.

Part specification of the wellhead casing head
Casing

Flange size

W.P. (psi)

A mm (in)

B mm (in)

C mm (in)

7"

11"

3, 000

470 (18.50)

162 (6.38)

280 (11.02)

8-5/8"

11"

2, 000

450 (17.72)

203 (7.99)

280 (11.02)

3, 000

470 (18.50)

203 (7.99)

280 (11.02)

5, 000

500 (19.69)

203 (7.99)

280 (11.02)

9-5/8"

11"

2, 000

450 (17.72)

230 (9.06)

280 (11.02)

3, 000

470 (18.50)

230 (9.06)

280 (11.02)

5, 000

500 (19.69)

230 (9.06)

280 (11.02)

10, 000

540 (21.26)

230 (9.06)

280 (11.02)

13-5/8"

5, 000

490 (19.29)

230 (9.06)

350 (13.80)

10-3/4"

11"

2, 000

450 (17.72)

259 (10.20)

280 (11.02)

3, 000

470 (18.50)

259 (10.20)

280 (11.02)

5, 000

500 (19.69)

259 (10.20)

280 (11.02)

10, 000

560 (22.05)

255 (10.04)

280 (11.02)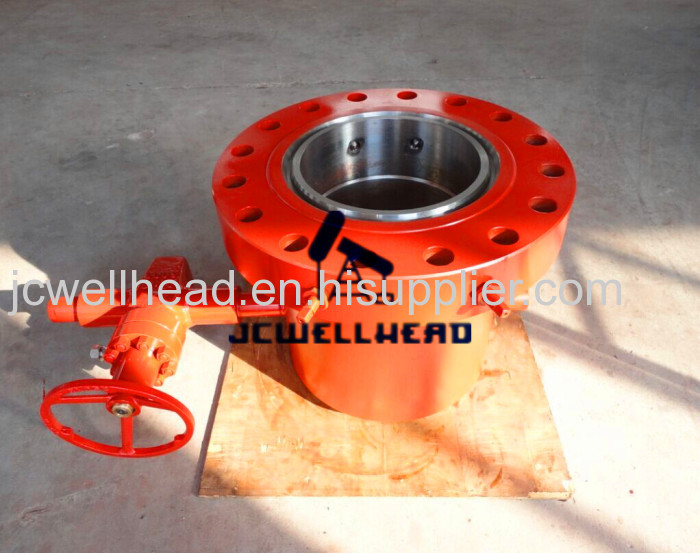 API 6A Wellhead Christmas Tree Casing Head 9-5/8"x7" - 3000psi
OIl Well Casing Head 9 5/8" x 7" for Wellhead Christmas Tree