1.Usage
The well testing manifold is the high pressure equipment used for controlling the fluid pressure and flow, normally manifold offers the option of directing flow through either choke while isolating the other for choke changes, maintenance or repair.
2. Technical Parameter
| | |
| --- | --- |
| Bore Diameter | 3 1/16" |
| Pressure Rating | 10000psi/70Mpa |
| Performance Specification Level | PSL3 |
| Performance Requirement | PR1 |
| Material Class | EE |
| Temperature rating | PU |
| | |
3.Structure
The inlet of the manifold is a flange union 3 1/16"-10K * 3"Fig1502F, outlet is a threaded flange 3 1/16"-10K-2 7/8" EUE. The manifold consists of a manual adjustable choke valve, a positive choke valve, Manual Gate valve, Block Tee, Block Cross etc., the manifold will be tested as per standard API 16C.
The valve is low torque type, and the manifold is in easy operation that can meet the requirements of oilfield testing requirements.
Manual gate valve is the main part of the manifold, consist of valve body, valve Bonnet, valve stem and valve seat etc., has below features:
The valve is equipped with two heavy duty and loading thrust ball bearings, bearing the loading of open and close valve gate, thus the open torque is very low, easy to operate. The wave spring front seal is adopted between valve gate and valve seat, valve body is full filled with grease, has better sealing performance compared with other types of gate valve. The valve gate and valve seat are made by special material that in wear-resisting and corrosion resistance, in long life time.
The valve bore has very small fluid resistant coefficient that easy for pipe cleaning.
Manual choke valve is the key parts of the manifold, The valve is operated by personnel, Needle assemble and valve seat seals are made by wear resistance special material, the valve featured large body and needle type valve core with large flow, can reduce the shock during chocking, also lower the noise.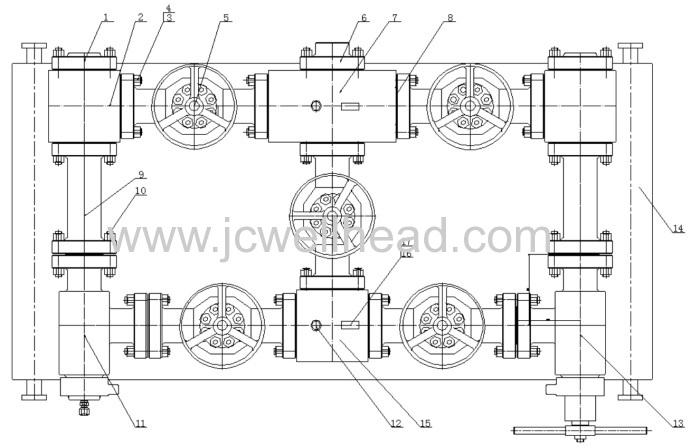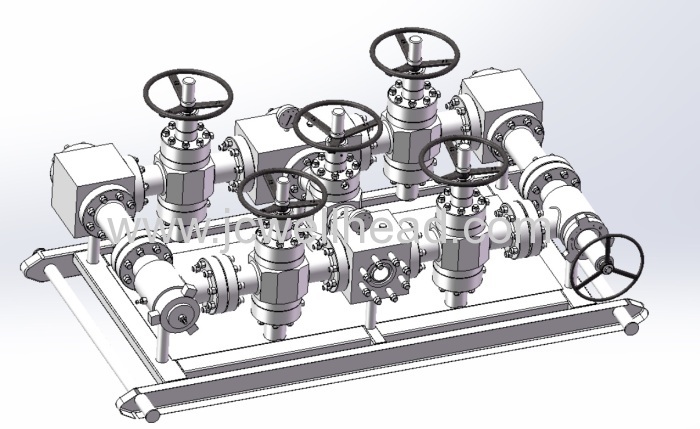 | | | |
| --- | --- | --- |
| Item | Part Number | Specification |
| 1 | CS3 1/16″-10K-01 | Blind Flange 78/70 |
| 2 | CS3 1/16″-10K-02 | Tee 78/70 |
| 3 | 1″-8UN | Bolt |
| 4 | 1″-8UN | Nut |
| 5 | PFF78/70 | Manual gate valve PFF78/70 |
| 6 | CS3 1/16″-10K-03 | Threaded flange 78/70-2 7/8″EUE |
| 7 | CS3 1/16″-10K-04 | CrossⅠ78/70 |
| 8 | BX154 | Ring gasket BX154 |
| 9 | CS3 1/16″-10K-05 | Riser Spool 78/70 |
| 10 | 1″-8UN | Bolt |
| 11 | JLKG78/70 | Positive choke valve JLKG78/70 |
| 12 | CS3 1/16″-10K-06 | Plug |
| 13 | JLK78/70 | Adjustable choke valve JLK78/70 |
| 14 | CS3 1/16″-10K-07 | Base |
| 15 | CS3 1/16″-10K-08 | Cross Ⅱ78/70 |
| 16 | 0-105Mpa | Pressure gauge 0-105Mpa |
| 17 | 1/2″NPT | Stop valve 1/2″NPT |