Oil Well Drilling Spool 13-5/8"- 3 K X 11" - 3 K API 16A And 6A Specification
API Drilling Spool For Oil Well Drilling Operation 13-5/8"- 3 K X 11" - 3 K
General of the 13-5/8"- 3 K X 11" - 3 K Drilling Spool
The 13-5/8"- 3 K X 11" - 3 K Drilling spool is used to connect with bop for oilfield drilling opeation.The 13-5/8"- 3 K X
11" - 3 K Drilling spool is made of alloy steel and heat-treated and used on the oil and gas well which is with a
pressure of less than 105Mpa. It is tested according to ((SY/T5053.1-2000 BOP and control equipment, BOP)) before
shipping to be used safely.
The 13-5/8"- 3 K X 11" - 3 K Drilling spool can be applied to drilling high pressure oil and gas well, the connecting of
the by passage of the spool with the valves and pipes will play not only a role of blowout and choking , but also a role
of connecting the BOP with the wellhead.
Installation and Maintenance of drilling spool
* The oil well drilling spool is used when connecting with the BOP and the casing head.
* Before installation of the drilling spool, the steel ring groove of the drilling spool should be cleaned before
installation.
* Tighten studs averagely of connecting the spool with the BOP.
Technical paramter of the 13-5/8"- 3 K X 11" - 3 K
| | | |
| --- | --- | --- |
| 1 | DECRIPTION | DRILLING SPOOL ADAPTER |
| 2 | SPECIFICATION | 13-5/8"- 3 K X 11" - 3 K |
| 3 | TOP LANGE | R-57RING GASKET GROOVE / RTJ |
| 4 | BOTTOM FLANGE | R"X - 53 RING GASKET GROVE/ RTJ, |
| 5 | OVER ALL LENGTH | 24" |
| 6 | STANDARD | API SPEC 6 A &16A LATEST EDITION, |
| 7 | PRODUCTION LEVEL | PSL -2 |
| 8 | MATERIAL CLASS | AISI 4130 HT, |
| 9 | TEMPERATURE CLASS | U(0-250 DEG.F) |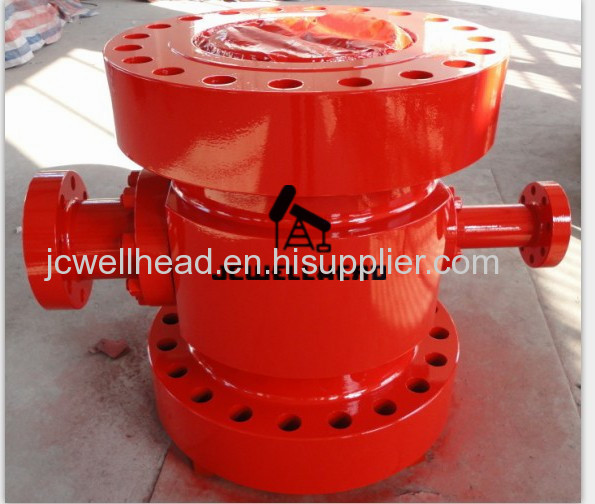 Oil Well Drilling Spool 13-5/8"- 3 K X 11" - 3 K API 16A And 6A Specification
API Drilling Spool For Oil Well Drilling Operation 13-5/8"- 3 K X 11" - 3 K