Oil Well Spherical Rubber Annular BOP 13 5/8" FH35-35
13 5/8" Spherical Rubber Annular BOP FH35-35 for oil well operation
Introduction of the FH35-35 spherical rubberAnnular BOP
The Spherical Rubber Annular BOP 13 5/8" FH35-35 is a kind of the annluar BOP. The BOP packing
element is spherical type, which is the shaffer's type. The spherical packing element annluar BOP is
conformed with API 16A specification.
The FH35-35 spherical rubberAnnular BOP is composed of five parts as upper housing, body, piston,
spherical rubber and anti-dust ring.
Features of FH35-35 spherical rubberAnnular BOP
* The spherical Packing element annular BOP has massive storage volume.
* The sphercia rubber BOP is operated by low operation pressure
* Packing element is interchangeable with Shaffter's tye
Specification of the FH35-35 Spherical rubberAnnular BOP
Model

Bore in

WP

psi

Close Volume L

Open Volume L

Total weight / kg

FH35-35

13 5/8

5000

94

69

6415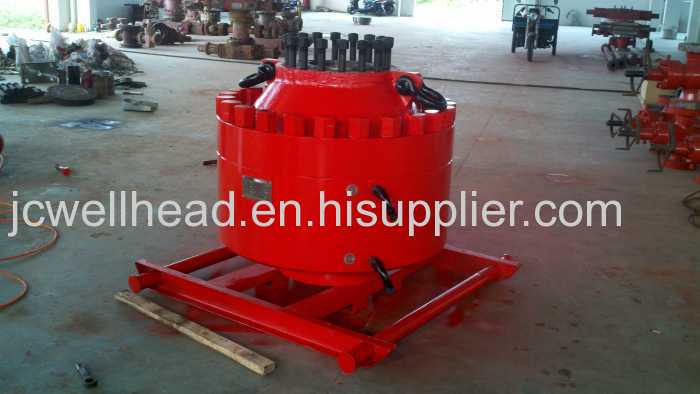 JC Wellhead with skilled engineers is able to design and provide various well control for oil and gas exploration, drilling operation, well testing operation and workover operations on the land and offshore. The well control equipment include annular BOP, RAM BOP, wellhead choke manifold.
Oil Well Spherical Rubber Annular BOP 13 5/8" FH35-35
13 5/8" Spherical Rubber Annular BOP FH35-35 for oil well operation