Oil Well 2 7/8" Sucker Rod BOP 1500 psi Working Pressure
2 7/8" x 1500 psi Sucker Rod BOP Oil Well Operation
Introduction of sucker rod BOP
The sucker-rod pump Blowout preventer is designed as per API 16A for sealing of sucker-rod pump
polished rod, wellhead sealing while stuffing box replacing, and for other repair work. Especially for
well flooding or other natural disasters, sucker rod BOP can act for continuous well shutdown to avoid
environmental pollution.
Sucker rod bop is control equipment which can prevent oil and gas Leakage, and they can guarantee
well washing, sand washing, and downhole fracturing operation smoothly.

Feature of sucker rod BOP
* The sucker rod BOP is with simple structure
* It is convenient to operate Sucker Rod BOP
* reliable sealing of sucker Rod BOP
* long service life
* indispensable tools in oil field work.
Sucker rod Specification

Structure

Material

Working Pressure

Working Tempreture

Connection

1" (φ25)

Single packed

Double packed

Carbon steel AISI 1018-1045

Alloy steel AISI 4130-4140

1500psi

2000psi

3000psi

-20°C--200°C

NUE, EUE, LP

1-1/8" (φ28)

1-1/4" (φ32)

1-1/2" (φ38)

1-3/4" (φ44)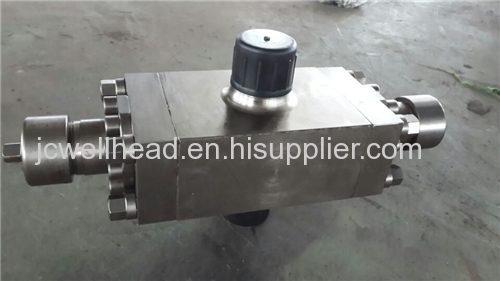 Oil Well 2 7/8" Sucker Rod BOP 1500 psi Working Pressure
2 7/8" x 1500 psi Sucker Rod BOP Oil Well Operation