Oil Well Tapered Rubber Annular BOP FHZ 35-35
Tapered Rubber Annular Blowout Preventer FHZ35-35
Application of the Tapered Rubber Annular BOP
The Tapered Rubber Annular BOP is a type of the Annular BOP which is used to drilling oepration and well workover operation in oilfield. There are two types of the Annular BOP tapered packing element BOP and spherical packing element.
Annular BOP with tapered rubber is composed of seven parts as upper housing, wear plate, body,
piston, tapered rubber, anti-dust ring and supporting cylinder.
Features of the Tapered Rubber Annular BOP
* The dynamic seal of annular BOP adopts the sealing ring of lip structure, which reduces the wearing
of sealing ring maximally
* The sealing is reliable;
* The rubber is not easy to fold back
Specification of the Tapered Rubber Annular BOP
Model

Bore in

WP

psi

Strength test/psi

Pressure of control unit

Close Volume L

Open Volume L

Total weight / kg

Joint size of input & out put

FHZ18-70

7 1/16

10000

15000

≤10.5/15000

36

27

9293

NPT 1

FHZ28-70

11

10000

15000

66

76

12290

FHZ35-35

13 5/8

5000

10000

66

76

12290

FHZ35-70

13 5/8

10000

15000

116

117

15190

FHZ45-35

16 3/4

5000

10000

112

78

10030

FHZ54-14

21 1/2

2000

3000

95.3

94.5

7660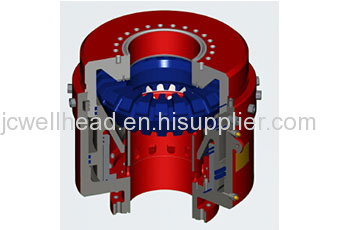 Oil Well Tapered Rubber Annular BOP FHZ 35-35
Tapered Rubber Annular Blowout Preventer FHZ35-35