Oilfield Wellhead API 6A Casing Head for Drilling Operation
Drilling Service API 6A Casing Head
Design Feature of the Casing Head
- With straight-bore design 45˚shoulder for large load capacity
- Side outlet connection type: Pipeline thread side outlet and Threaded flange side outlet VR thread
- The casing head with secondary seal mechanism is designed on the bottom. The casing can be cut on site during tubing installation so as to accommodate the seal height.
- Slip casing hanger and mandrel type casing hanger are interchangeable.
- Connection types between casing head and surface casing: welded bottom connection,threaded bottom connection and slip bottom connection
Specification of the casing head

Casing

Flange size

W.P. (psi)

A mm (in)

B mm (in)

C mm (in)

7"

11"

3, 000

470 (18.50)

162 (6.38)

280 (11.02)

8-5/8"

11"

2, 000

450 (17.72)

203 (7.99)

280 (11.02)

3, 000

470 (18.50)

203 (7.99)

280 (11.02)

5, 000

500 (19.69)

203 (7.99)

280 (11.02)

9-5/8"

11"

2, 000

450 (17.72)

230 (9.06)

280 (11.02)

3, 000

470 (18.50)

230 (9.06)

280 (11.02)

5, 000

500 (19.69)

230 (9.06)

280 (11.02)

10, 000

540 (21.26)

230 (9.06)

280 (11.02)

13-5/8"

5, 000

490 (19.29)

230 (9.06)

350 (13.80)

10-3/4"

11"

2, 000

450 (17.72)

259 (10.20)

280 (11.02)

3, 000

470 (18.50)

259 (10.20)

280 (11.02)

5, 000

500 (19.69)

259 (10.20)

280 (11.02)

10, 000

560 (22.05)

255 (10.04)

280 (11.02)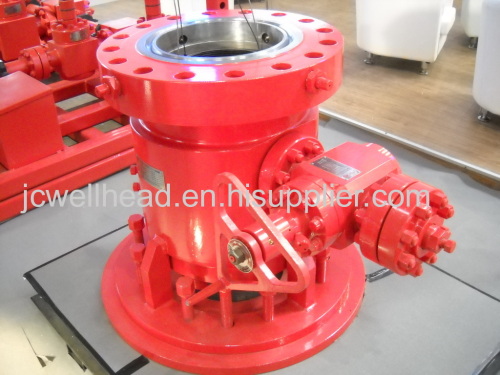 Casing Head Assy.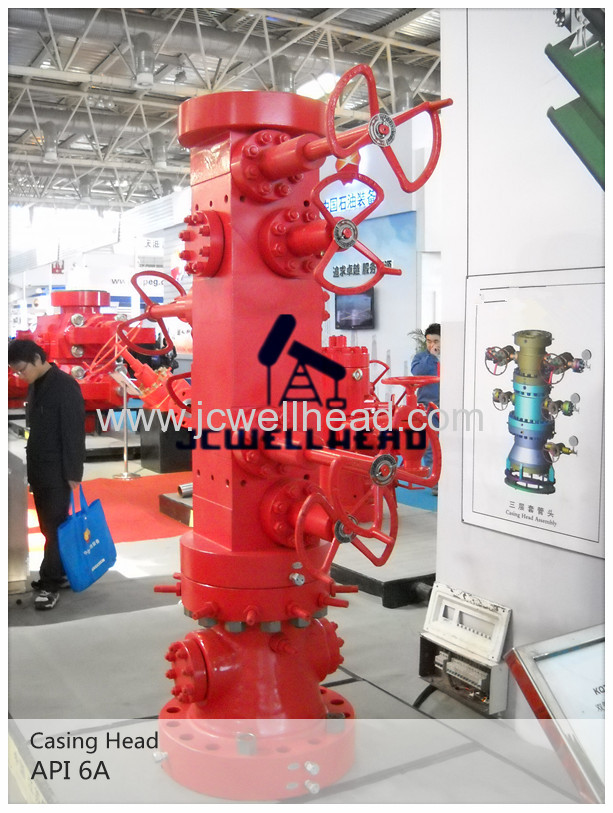 JC Petroleum Equipment Factory manufactures and supplier the various wellhead equipment
andrelated parts to meet different requirement in oilfield service operation. The wellhead
equipment are conformed with API 6A and wellhead choke manifold is according to API16C
specification, and applied for high pressure and high temperature working condition.
The wellhead manifold include choke and kill manifold, fracturing manifold, testing manifold,
drilling floor manifold etc.The wellhead equipment covers the wellhead valves such as gate
valve, mud valve,choke valve, check valve, and wellhead connection equipment including spacer
spool, double studded adapter flange, various adapter flange, drilling spool, cross, tee etc.