Plug Valve 1" with 2" connections FIG1502 WING TO THREAD
Wellhead Plug Valve 1" Fig 1502 API 6A
Introduction of the Plug valve 1" x 2"
The 1" with 2" connections FIG1502 Plug valve is an indispensable important part used to connect high pressure manifold during well cementing and fracturing operation in oilfield. With a compact structure and low torque, the plug vlave can be maintained easily and opened quickly. And the plug valve can be operated easily that it is the most ideal valve among cementing and fracturing manifolds.
Specification of the Plug Valve 1" x 2"
size

cold working press

Terminal connection type

Buckle model

Internal thread ,External thread(LP,NU)

1"×2"
2"×2"
3"×3"

42Mpa(6000psi)
70Mpa(10000psi)
105Mpa(15000psi)

union fig1002
union fig1502
union fig602

M×M
M×F
F ×F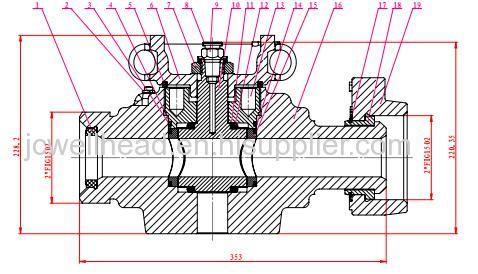 JC wellhead is specialized in wellhead equipment which is conformed with API 6A, API 16C Specification. We provide quality chock valves, gate valves, check valves, plug valves, needle valves and butterfly valves of various models and sizes. The design and the manufacture of these valves conform to API standards. They feature high strength. well sealing, easy replacement and convenient operation.
Plug Valve 1" with 2" connections FIG1502 WING TO THREAD
Wellhead Plug Valve 1" Fig 1502 API 6A