Wellhead 2 9/16" x 5000 psi API 6A Check Valve
Oil Well API 6A Check Valve 2 9/16" x 5000psi
Overview of 2 9/16" Dart Check Valve
The Dart Check valve is a kind of wellhead check valve, and mainly used to separate drilling liquid and fluid. The Dart Check Valve is installed inside the high pressure piping in order to prevent liquid backstreaming by self-closing baffle. When the liquid flows along with the arrow direction, liquid will push the valve plate and open the valve and let the liquid in. on the contrary, valve plate will cover the valve seat and make it sealed.
Features of the Wellhead Dart check valve
* The Check Valve is manufactured according to API-6A.
* Check valve is forged by high strength alloy steel with high structure strength
* It is Convenient to assemble and disassembled the check valve
* The check valve with good sealing performance
* The check valve with long service life
Specification of the wellhead dart check valve
Specification

Cold working pressure

Terminal connection type

model

2"Check Valve

DXF70-2"×2"

70Mpa(10000psi)
105Mpa(15000psi)

fig1002
fig1502

M×M
M×F
F×F

DXF105-2"×2"

3"Check Valve

DXF70-3"×3"

DXF105-3"×3"

Note: "F"-threaded joint,"M"-sphere joint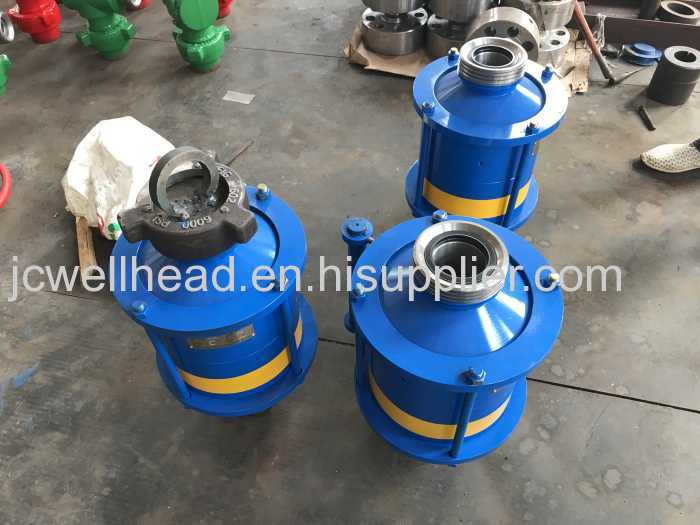 Wellhead 2 9/16" x 5000 psi API 6A Check Valve
Oil Well API 6A Check Valve 2 9/16" x 5000psi