Wellhead API 16C Choke Manifold 3 1/8" x 5000 psi
Oil Well Drilling High Pressure Choke Manifold
Brief of the wellhead choke manifold
Choke Manifold is the important wellhead equipment to carry out the pressure control technology in the
oil/gas well. The choke manfiold with high working pressure is used for controlling casing pressure,
keeping wellbore pressure balance, to avoid overflowing and prevent wells from blowing out, releasing
pressure through choke valves to realize soft closing, and blowing down to protect the wellhead. The
choke manifold can be provided with the hydraulic control manifold for the remote control. The choke
manifold manufactured by our company conform to API Spec 16c and NACE Standard MR0175.
Specification of the wellhead choke manifold
choke manifold

Main bore and bypass bore

3 1/8 in, 4 1/16 in , 2 1/16 in, 2 9/16 in, 3 1/16 in

Working pressure

21 Mpa - 105 Mpa

Working Temperature

−29 oC to 121oC (P - U)

Working Medium

Mud, oil, drilling fluid (H2S)

Control Type

Two-wing single opening and closing manual structure
Two-wing Double opening and closing manual structure
Two-wing Double opening and closing hydraulic structure
Three-wing double opening and closing manual structure
Three-wing double opening and closing hydraulic structure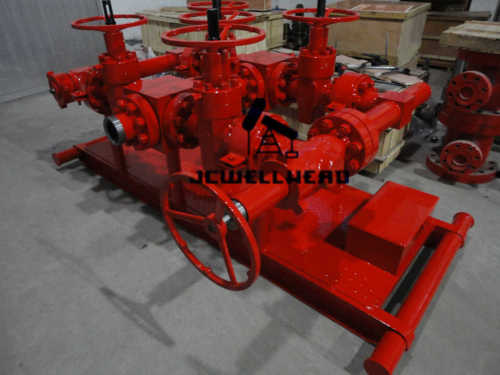 JC Petroleum Equipment Factory manufactures and supplier the various wellhead manifold and related
parts to meet different requirement in oilfield service operation. The wellhead manifolds are conformed
with API 6A and API16C specification, and applied for high pressure and high temperature working
condition. The wellhead manifold include choke and kill manifold, fracturing manifold, testing manifold,
drilling floor manifold etc. And we can design the wellhead manifold as per the customers' requirements