Wellhead Drilling Spool 11" x 3K - 13 5/8" x 3K
Oil Well API 16A Driling Spool 11" x 3K - 13 5/8" x 3K
Overview of the Drilling Spool 11" x 3K - 13 5/8" x 3K
The 11" x 3K - 13 5/8" x 3K Drilling spool is used to connect with bop for oilfield drilling work.The wellhead drilling spool is made of alloy steel and heat-treated. It is used on the oil and gas well which is with a pressure of less than 105Mpa. It is tested according to API 16A specificationbefore shipping to be used safely.
The 11" x 3K - 13 5/8" x 3K spool applies to drilling high pressure oil and gas well, the connecting of the by passage of the spool with the valves and pipes will play not only a role of blowout and choking , but also a role of connecting the BOP with the wellhead.
Installation and Maintenance of Wellhead drilling spool
* Being used when connecting with the BOP and the casing head.
*.The steel ring grove should be cleaned before installation.
*.Tighten studs averagely of connecting the spool with the BOP.
Specification of the Wellhead Drilling Spool 11" x 3K
| | |
| --- | --- |
| Top flange | Bottom flange |
| 11"×2000psi (279.4mm×14MPa) | 11"×2000psi (279.4mm×14MPa) |
| 11"×2000psi (279.4mm×14MPa) | 13-5/8"×2000psi (346.1mm×14MPa) |
| 11"×3000psi (279.4mm×21MPa) | 11"×3000psi (279.4mm×21MPa) |
| 11"×3000psi (279.4mm×21MPa) | 13-5/8"×2000psi (346.1mm×14MPa) |
| 11"×3000psi (279.4mm×21MPa) | 13-5/8"×3000psi (346.1mm×21MPa) |
| 11"×5000psi (279.4mm×35MPa) | 13-5/8"×3000psi (346.1mm×21MPa) |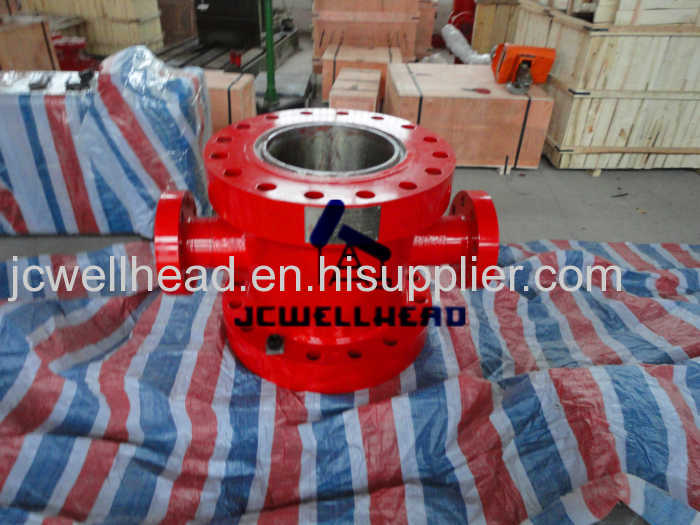 Wellhead Drilling Spool 11" x 3K - 13 5/8" x 3K
Oil Well API 16A Driling Spool 11" x 3K - 13 5/8" x 3K