Wellhead Hose Loop Long Radius Flexible Manifolds
API 6A Long Radius Flexible Manifolds Hose Loop
Overview of the Hose Loop
The wellhead hose loop is the part of the well flow control equipment, used in oil field cementing,
fracturing operation. The hose loop includes three types: short radius flexible manifolds, long radius
flexible manifolds and integral type flexible manifolds.
The hose loop is consist of swivel joint, hammer union and pup joint. The hose loop can be swiveled in
three directions flexibly, and can be used in discharge pup joint, transportation pup joint, well testing
pup joint, well cementing pup joint and transportation liquid flow under high pressure environment.
Specification of the Hose Loop
specification

Name

Cold working press

Terminal connection type

Buckle model

2"×42

Thread sealing hose loops
Integral hose loops
H2S proof hose loops

42MPa

3.8125-3Stub Acme-2G

fig602

2"×70

70MPa

3.8125-3Stub Acme-2G

fig1002

2"×105

105MPa

4.125-3-Acme-2G

fig1502

3"×42

42MPa

5.375-3Stub Acme-2G

fig602

3"×70

70MPa

5.375-4-Acme-2G

fig1002

3"×105

105MPa

5.375-3.5-Acme-2G

fig1502

4"×42

42MPa

6.25-3Stub Acme-2G

fig602

4"×70

70MPa

6.25-4-Acme-2G

fig1002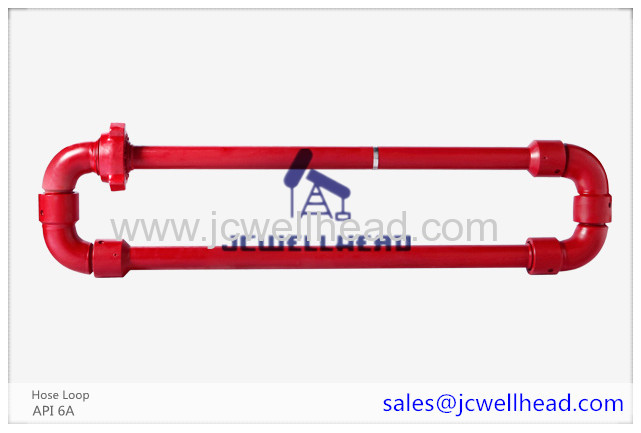 JC Petroleum Equipment Factory manufactures and supplier the various wellhead equipment and
related parts to meet different requirement in oilfield service operation. The wellhead equipment
are conformed with API 6A and wellhead choke manifold is according to API16C specification, and
applied for high pressure and high temperature working condition.
The wellhead manifold include choke and kill manifold, fracturing manifold, testing manifold, drilling floor
manifold etc.The wellhead equipment covers the wellhead valves such as gate valve, mud valve, choke
valve, check valve, and wellhead connection equipment including spacer spool, double studded adapter
flange, various adapter flange, drilling spool, cross, tee etc.